Manufactured to conform to PS 15-69
Nexus and C-veil double liner
Hand lay-up construction
Standard stock items available in ASHLAND DERAKANE "MOMENTUM" 411-350 and 470, supply using other resin systems possible.
Standard Products available for 45-degree and 90-degree elbows up to 24 inches ( 600 mm ) nominal diameter.
Fabrication of larger sizes and various sweep angle, miter elbows, various ends ( plain, bell, socket, flange ) also possible.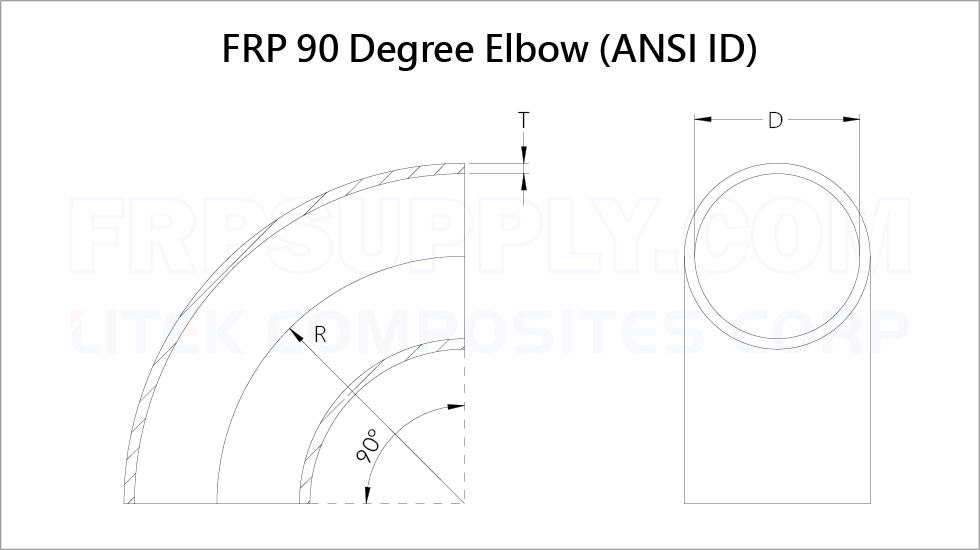 NominalDiameter
( D )

PressureRating

Radius
( R )

WallThickness
( T )

inch

psi

inch

inch

1

150

2

3/16

1- 1/2

150

3

3/16

2

150

4

1/4

2- 1/2

150

5

1/4

3

150

6

1/4

4

150

6

1/4

5

150

7- 1/2

3/8

6

150

9

3/8

8

150

12

7/16

10

150

15

1/2

12

150

18

5/8

14

150

21

3/4

16

150

24

13/16

18

150

27

7/8

20

150

30

15/16

24

150

36

1- 1/8

30

150

45

1- 3/8

36

150

54

1- 5/8